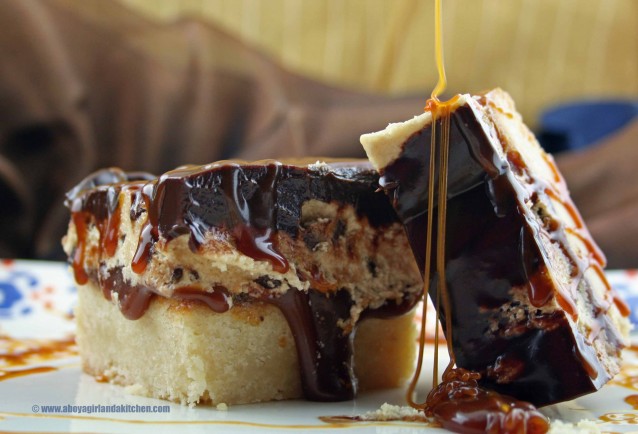 Billionaire-Bars
Billionaire Bars
As soon as I caught a glimpse of these Billionaire Bars  on Pinterest, I knew I just had to make them.  Immediately.  They spoke to me from the computer screen.  They wanted to be made, in my kitchen nonetheless!  I couldn't argue with them now could I?
This is just the kind of thing I enjoy.  Four fairly involved steps and as a bonus, I picked a weekday to make these and really had limited time.  This is typical for me.  But, I really needed to make these.  And, these did not disappoint!  They are rich and decadent and completely delicious.  All four layers compliment each other and make a magical creation.
Be warned, there is a lot of cooling time involved.  You won't be able to get your mitts on these for awhile.  The last 30 minutes waiting for the ganache to cool is the most difficult.  To pass the time, I suggest changing into some elastic waist pants, get real comfy and conveniently forget how much butter and cream went into these!
Ingredients
For the Shortbread Layer
2 Cups salted butter, softened
1 Cup sugar
1/4 cup light brown sugar, packed
3 3/4 cups all purpose flour
1/2 teaspoon salt
For the Caramel layer
1 cup sugar
6 tablespoons butter
.5 cup heavy cream
.5 tbsp sea salt
For the Cookie Dough Layer
1 cup butter, softened
1/2 cup sugar
1 cup light brown sugar, packed
2 tablespoons heavy cream
1 tablespoon vanilla extract
1 1/2 cups all-purpose flour
1/2 teaspoon salt
1/2 cup mini semisweet chocolate chips
For the Chocolate Ganache Layer
1 1/2 cups semi-sweet chocolate chips
1 cup heavy cream
1 tablespoon vanilla extract
Directions
Directions for Shortbread Layer
Beat butter and sugars until light and fluffy.
Add in flour and salt and mix on low until just combined.
Line a 9×13 pan with parchment paper, with overhang on the ends.  Spray any exposed area of the pan with cooking spray.
Press the dough into prepared pan. Bake at 350 for 30-35 minutes until edges are slightly browned.
Directions for Caramel Layer
 Heat the sugar over medium high heat in a saucepan. When the sugar starts to melt, start whisking the sugar. The sugar will clump up, but keep whisking. It will continue to melt. When the sugar is melted, stop whisking.
 Continue cooking the sugar until it reaches a deep amber color. Rotate the pan to keep it moving. 

 

Add butter. Whisk until butter is melted.

 Remove the pan from the heat and slowly pour in the heavy cream. Whisk until cream completely combined and caramel is smooth. Whisk in the sea salt.
Pour hot caramel mixture over the shortbread crust.
Refrigerate until set, at least one hour.
Directions for Cookie Dough Layer
To prepare cookie dough layer, beat butter and sugars on medium speed until light and fluffy.
Add heavy cream and vanilla and mix well.
Add flour and salt and mix on low speed until just incorporated.
Stir in the mini chocolate chips.
Spread cookie dough on top of caramel layer using a spatula to smooth dough into an even layer.
Refrigerate while you prepare the chocolate ganache.
Directions for Ganache
Place chocolate chips in a glass bowl.
In a saucepan, whisk together cream and vanilla and bring to a simmer over medium-high heat.
Pour over the chocolate chips, let sit for 5 minutes, then whisk until completely smooth.
Pour the ganache over the cookie dough layer and chill until set, at least 30 minutes
Recipe adapted from  http://www.kevinandamanda.com and http://www.twopeasandtheirpod.com