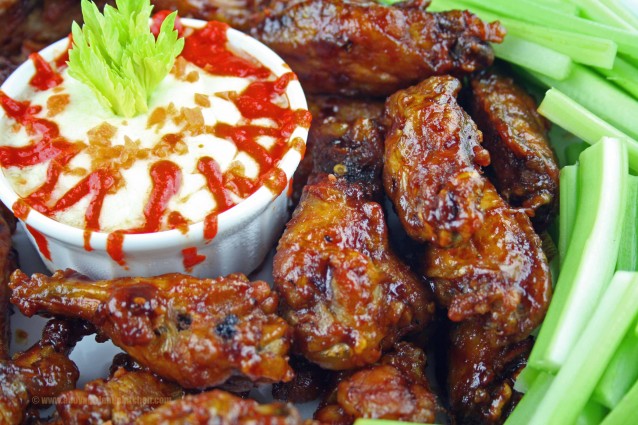 Buffalo Wings
Buffalo Wing Recipe
With Superbowl on the way I thought I would share my favorite buffalo wing recipe. This recipe is the result of years and years of tinkering, I finally feel like I have the perfect blend of heat, sweet and flavor.
I will eat the hell out of buffalo wings. I think buffalo wings are a stand alone meal. Left to my own devices, I will eat chicken wings to failure. The Girl can attest to this.
She and I used to go to a buffalo wing place that had a fifty piece wing bucket, you could get ten each of five different flavors, I know, sounds ideal right? I wanted that buffalo wing bucket so badly, but, being the reasonable and sane person that she is, she would always steer me away from it, "Why don't you start with an order of eight first?" she would say.
Fast forward a few months, The Girl is visiting family out-of-state, I am hungry and its dinner time, wings sound good. I think it was on the drive to the place that I realized that I had no adult supervision and the prospect of "The Bucket" was in play. A little while later and "the Bucket" is a reality. I am headed home with a cardboard bucket full of fried deliciousness strapped into the seat next to me.
Fast forward ninety minutes. I've eaten thirty-seven wings, I've lost all sense of reason, I can no longer stand, I'm laying on the couch sweat pouring off of me, pants unbuttoned, mouth burning, stomach churning. My pride says I have to finish, if I don't finish The Girl will be right, I should have gotten a order of eight. What is thirteen more? I can do this! I pick up another wing and bite into it noncommittally, my hands shake, too much salt, grease, vinegar and MSG, and my body reacts violently, It's had enough, more than enough. No more buffalo wings tonight. So when I say I like buffalo wings and will eat them to failure, this is what I mean.
This buffalo wing recipe cuts some of the vinegary heat with a sweet touch of molasses and smoky barbecue but kicks it up with an addition of a dry spice blend to add some extra flavor and a different heat profile. Are they great buffalo wings? Without a doubt! They are better than any I have ever eaten in a restaurant or buffalo wing place. Can I eat fifty of them? Lets just say I'm pretty sure I should start with an order of  thirty-seven.
Buffalo wing recipe
Directions
Rinse and drain your wings
Fry wings at 350° for 12 to 20 minutes depending on how crispy you like them
Melt the butter in a small sauce pan
Add the remaining ingredients to the pan and let that simmer until your wings are done frying
Toss the cooked wings with the sauce in a bowl.
Serve with ranch or bleu cheese dressing and celery sticks