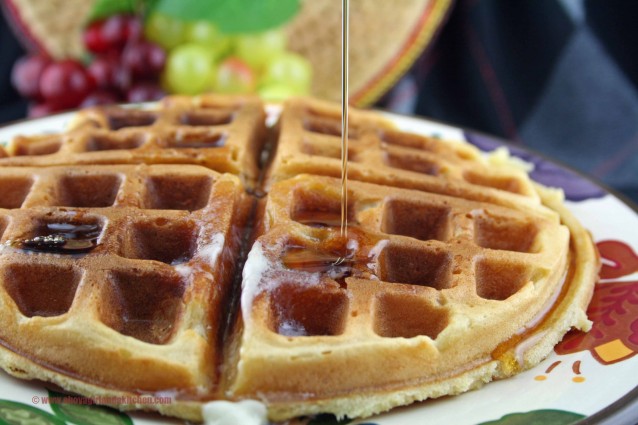 Golden-Waffles
Some weekends the family prefers pancakes, some weekends they prefer waffles.  I never know which it will be.  That's why I almost always make both, so they have a choice.
This waffle recipe  is a favorite of the whole Family.  It makes nice, fluffy, coconutty ( is that a word?) waffles.  I almost always double the recipe, you can find the quantities for doubling these here .  These store great in the freezer too.  I like to microwave them for a bit, to just thaw them, and then toast them in the toaster oven to crisp them up a little.  They don't tend to stay in the freezer very long at all though. I generally wake up the next day to a rustling sound and later will find my son in the kitchen holding a bag of frozen waffles.  At 5 in the morning.  They're that good!
I really enjoy using the coconut oil in these.  It gives a subtle flavor of coconut, really subtle.  But the smell when they're cooking is amazing!
Ingredients
Buttermilk Waffles
2 large eggs
1 3/4 cups (14 ounces) buttermilk
1/2 cup coconut oil, melted and cooled to room temperature (can use butter melted and cooled instead)
2 teaspoons vanilla extract
1 3/4 cups  all-purpose flour
2 tablespoons sugar
2 teaspoons baking powder
1 teaspoon baking soda
1 teaspoon salt
Directions
Preheat waffle iron
In a medium-sized bowl, beat together the eggs, buttermilk, melted butter or coconut oil, and vanilla. In another bowl whisk together the dry ingredients; combine the wet and dry ingredients just until smooth.
I generally use about 1/2 cup batter per waffle. Cook until your waffle  iron stops steaming.
Recipe adapted from melskitchencafe.com