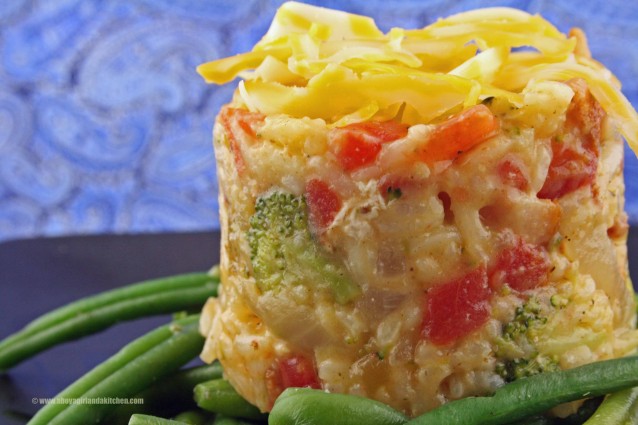 Broccoli-Cheese-Casserole
Easy and yummy.  Those are two of our most important meal requirements.  This Cheesy Chicken and Broccoli Rice dish definitely met those expectations!  Plus, it has a lot of other great aspects, besides easy and yummy, as if it needed more.  Just take a glance at the ingredients.  I bet you have most of that stuff in your house right now, if not all of it.  Perfect!  And, guess what else ? This has the added feature of everything being cooked in the same pan.  Which makes the task of clean-up so much easier.  Just make sure you have about 3 cup of cooked rice ready to throw  into this dish and you will have a winning meal in no time!
Ingredients
Cheesy Chicken and Broccoli Rice
8 slices bacon, diced
1 pound boneless, skinless chicken breasts
salt and pepper
1 tablespoon butter
1 tablespoon olive oil
1 cup diced onion
12 oz  broccoli florets, roughly chopped into small, bite-sized pieces
2-4 cloves garlic, minced
1  can Diced Tomatoes and Green Chiles
3 cups cooked rice
2 tablespoons butter
2 tablespoons flour
1 cup chicken broth
1 cup extra sharp shredded cheddar cheese
1/2 teaspoon salt and pepper, each
Directions
Add the diced bacon to a large skillet or dutch oven and turn heat to medium high. Cook the bacon until crisp, stirring occasionally. Meanwhile, dice the chicken into bite-sized pieces. Season both sides with salt and pepper. When the bacon is crisp, use a slotted spoon to remove to a plate. Add butter and olive oil to the skillet. Once butter has melted, add the chicken in a single layer and brown on both sides. Remove the chicken to the plate with the bacon.
 Add the onion and broccoli to the skillet where you cooked the bacon and chicken. Cook over medium-high heat, stirring occasionally until broccoli is tender and onions are brown. Add in minced garlic and cook, stirring constantly until just fragrant. Top with tomatoes, rice, chicken and bacon and stir to combine. Reduce heat to low to keep warm.
Melt the butter in a small saucepan and whisk in the flour until  combined. Slowly add in the chicken broth while stirring well. Increase heat to high and cook until thickened and bubbly. Remove from heat and add in cheese and salt and pepper. Stir until cheese is melted, then pour in the skillet with the chicken and rice. Stir to combine and serve.
Recipe adapted from http://www.kevinandamanda.com