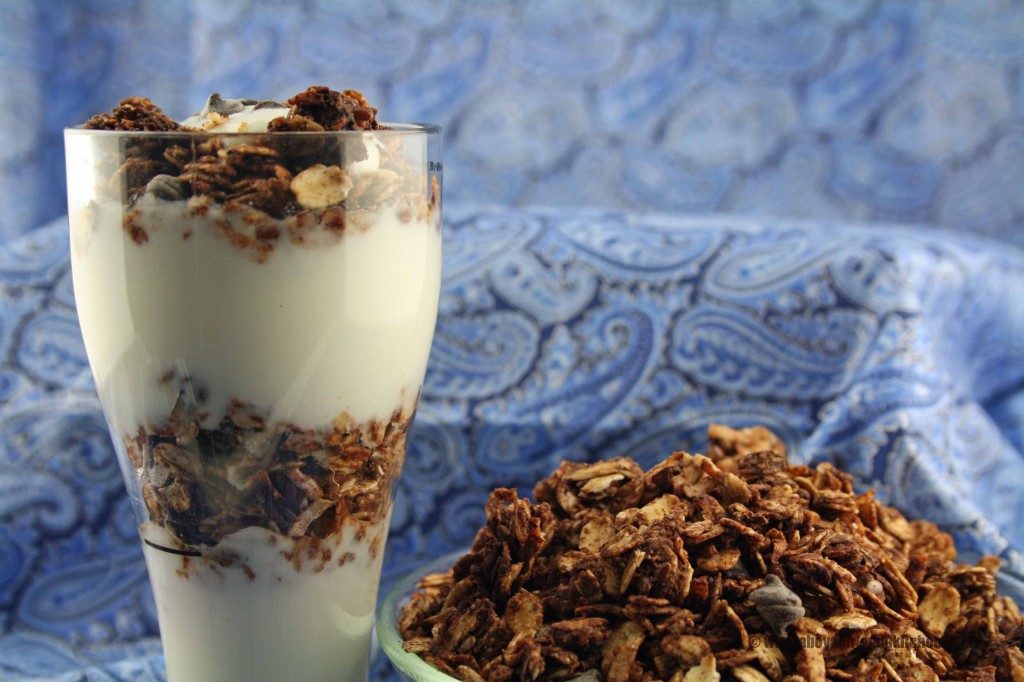 We like making homemade granola bars at our house.  They're fun and easy. Plus, it's a great way for the kids to get involved too.   I was looking to spice up the granola bars we usually make and generally I just buy a different flavor granola.  But this time, I decided to make our own granola for our homemade granola bars.
This Chocolate Coconut Granola was a winner!  It had a nice sweetness to it and the coconut oil gave it a great nutty flavor.  It smelled amazing while it was in the oven!  We enjoyed this several ways; just loose as a snack, in yogurt and we also made these tasty Chewy Chocolate Granola Clusters . This was an easy, healthy snack made with some basics we have on hand in our pantry.
Ingredients
Chocolate Coconut Granola
4 cups rolled oats
1 cup shredded coconut
½ cup flax seeds
½ cup cocoa powder
⅓ cup melted coconut oil
½ teaspoon vanilla extract
⅓ cup maple syrup
¼ cup brown sugar
¼ cup mini chocolate chips
Directions
Preheat oven to 325 degrees.
In a large bowl, stir together the oats, coconut, and flax seeds.
In a medium bowl, whisk together the cocoa, coconut oil, vanilla, maple syrup, and brown sugar until smooth. Pour chocolate mixture over the oat mixture in the large bowl and stir until all the oats are coated.
With a little coconut oil, grease a large baking sheet. Distribute evenly into the bottom of the prepared baking sheet and bake for 15 minutes.
Remove from oven, then stir and bake another 15 minutes.
Remove from oven again and allow granola to cool completely in the pan without stirring.
Once cooled completely, add in mini chocolate chips. Store in an airtight container.
Recipe adapted from- http://www.momables.com