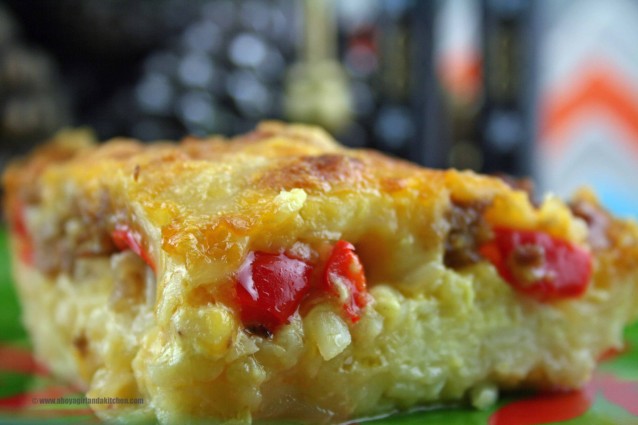 Christmas Breakfast Casserole
Have you ever been so completely disappointed on Christmas morning?  I have.  It happened so quick too.  I was probably 6 or so, and of course insanely excited for Christmas.  It all started just like every other Christmas morning had before.  My sister and I woke up in our brand new pajama's ready to see what jolly ole St. Nick brought us.  We of course start with the stockings.  Well, lo and behold, our stockings are filled with travel sized toiletries.  Strange, right?  Well, to my little 6 year old mind this can only mean one thing and one thing only.  We are going to DisneyLand.  I tell my sister that has to be what is going on, I mean, why else would we need travel sized shampoo, right?  I can still see the look on my mom's face.  She assures us that there is no trip.  But, why should we believe her, surely Santa hid the plane tickets in the gifts, right?  Well, there was no trip.  Just travel sized toiletries.  Why the toiletries, well, because it is really hard to find stuff to fill stockings sometimes.  I assure you Santa never made that mistake again.
This breakfast casserole is something that will not disappoint you on Christmas morning.  I look forward to this all year. And it works out great.  I pre-bake the potato part the night before and get it all set.  Then first thing in the morning it goes in the oven.  We all take a break from the excitement and have this warm, hearty breakfast.
Ingredients
Christmas Breakfast Casserole
24 ounce package frozen hash brown potatoes, thawed
1 pound sausage
4 eggs
2 cups shredded cheddar cheese
2 cups shredded Swiss chess
1 small onion, chopped
1 red bell pepper, chopped
1 cup cream
salt and pepper to taste
Directions
Pre heat oven to 425 and prepare a 9 x 13 baking dish with cooking spray.
Press thawed hash browns into the pan.
While potatoes are baking, brown the sausage.
Once the potatoes are slightly browned on top, spread the cooked sausage on top.
Layer the onion and pepper on top of the sausage. ( Sometimes I leave them raw and other times I cook them just slightly in the same pan the sausage cooked in)
Beat the cream, eggs, salt and pepper together. Pour over the top of the casserole once it as cooled a bit.
Refrigerate overnight (Not necessary, but so much easier on Christmas morning)
Bake for 40-45 minutes at 350º