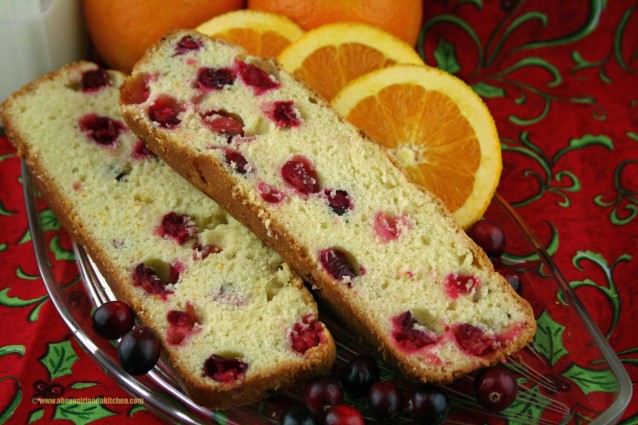 Cranberry breakfast cake
You know what sucks?  Kitchen accidents.  I've been having an accident prone week over here.  First, I grated my thumb while grating cheese.  Yuck and ouch.  Just a few days later, I cut my finger while trimming fat off meat.  Chance had just sharpened the knife too.
You know what doesn't suck?  Cake for breakfast.  Yep, that's right.  Cake for breakfast.  Fun, right?  I think so, hopefully you do too.
This cranberry breakfast cake is sweet and tart and thoroughly infused with orange.  It's a really great combination.
Ingredients
Cranberry Breakfast Cake
½ cup unsalted butter, room temperature
the zest from 1 orange zest
1 cup
1 egg, room temperature
1 tsp. vanilla
2 cups flour
2 tsp. baking powder
1 tsp. kosher salt
2 cups fresh cranberries
½ cup buttermilk
Directions
Preheat the oven to 350ºF.
Cream butter with orange zest and sugar until light and fluffy.
Add the egg and vanilla and beat until combined.
Whisk  flour, baking powder and salt. Reserve 1 Tablespoon of flour to toss with the cranberries to keep their color from bleeding into the batter.
 Add the flour mixture to the batter a little at a time, alternating with the buttermilk.
Fold in the cranberries.
Prepare a 8-inch square baking pan with non-stick spray. Pour batter into pan. Bake for 40 minutes, then begin to check for doneness by  inserting a toothpick. If necessary, return pan to oven, check every five minutes or so.
Recipe adapted from http://www.alexandracooks.com