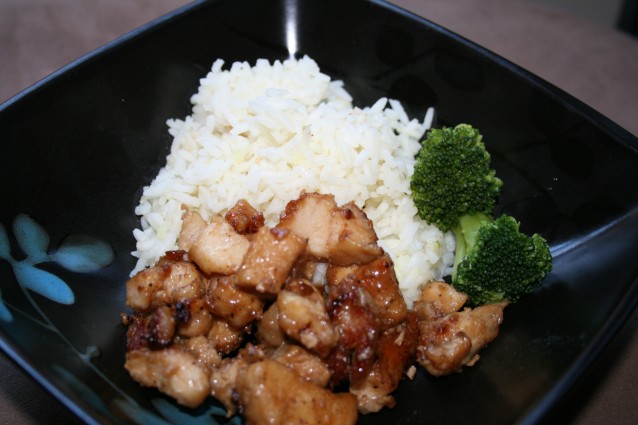 Easy Sesame Chicken
My son has become somewhat of an aficionado of sesame chicken.  Its strange really.  Mainly because he's six.
It all started when we started shopping for authentic Asian ingredients at an Asian market in town. There's a neat food court next to it that we usually have lunch in after shopping.  My son always gets the sesame chicken, from the same stand, every time.  He's willing to try other stuff too, which is great, but he really looks forward to that special sesame chicken.
Since he first had  that sesame chicken, he tries to get it everywhere we go that might serve it.  Since he was asking for it so often, I started looking  for ways to reproduce it at home.  This is one of our favorites.  It has a great flavor to it, but even better it is so easy! So, for all you sesame chicken fans out there, here's a great recipe to try.
Ingredients
Easy Sesame Chicken
2 pounds boneless, skinless chicken breasts, cut into bite sized pieces
1/2 teaspoon salt
1/2 teaspoons pepper
3 tablespoons flour
2 tablespoons toasted sesame oil
1 tablespoon olive oil
2 garlic cloves, minced
1 tablespoon soy sauce
1 tablespoon brown sugar
1 tablespoon white vinegar
1/2 cup chicken stock
2-3 tablespoons toasted sesame seeds (which I forgot to put on before I took the picture)

Directions
Preheat oven to 400 degrees.
In a bowl, whisk together chicken stock, brown sugar, 1 tablespoon sesame oil, garlic cloves, soy sauce and vinegar. Set aside.
Heat a large oven-proof skillet over medium-high heat. Toss chicken with salt, pepper and flour. Add olive oil and 1 tablespoon sesame oil to skillet, and once hot, add chicken in a single layer. Cook until seared and golden on one side, then turn the pieces and cook until golden on the other side. Pour chicken stock mixture over top and toss to coat, then turn off heat.
Place skillet in oven and bake for 20 minutes. Remove and sprinkle with sesame seeds.
Recipe adapted from http://www.howsweeteats.com