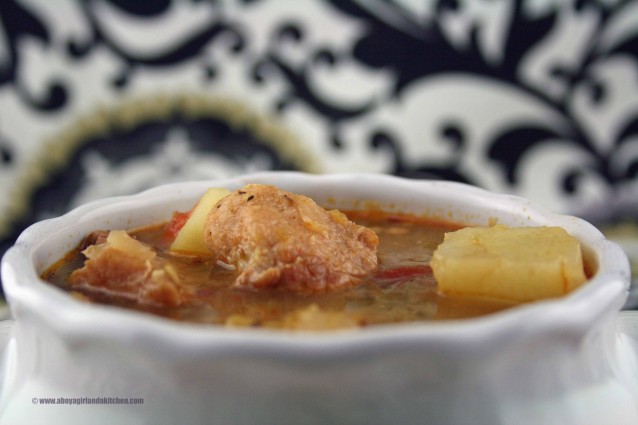 Green chile stew
I grew up in  Truth or Consequences, New Mexico. I won't bore you with a lengthy diatribe about the mind numbing boredom that comes from living in tiny town USA, or the lengths that the juvenile human will go to alleviate said boredom (did someone say cow tipping and binge drinking?) Instead I am going to focus on what I consider to be,  culinarily speaking, the best part of a misspent youth in rural New Mexico, Green Chile. I love, love, love, green chile. Green chile sauce, green chile cheeseburgers, green chile chicken chowder, green chile enchiladas, I love them all, but, hands down my favorite is this green chile stew…..
Green Chile Stew Recipe
Ingredients
2 1/2 lbs Diced  Boneless pork Loin
12 oz   bacon chopped fine
12 oz roasted, peeled and chopped green chile I usually buy fresh and roast and peel it or you can buy 4lbs Frozen Fire Roasted Hatch New Mexico Green Chile MILD
4 large russet potatoes diced
2 large white onions diced
5 cloves garlic minced
10 cups chicken broth
1 10 oz can Ro*Tel
1 tbl cumin
3 tbl chili powder
1 tsp salt
3 bay leaves
2 tsp coriander
2 tsp oregano
Directions
Cook diced bacon with  1/4 of your onions and half of your minced  garlic over medium high heat until bacon is done
Add diced pork and seasonings  and brown, stirring often
When pork is browned add ro*tel and remaining onions and garlic
Add chicken broth and 1/2 of the green chile, cover and simmer for 45 minutes
Check pork for tenderness after 45 minutes, if tender add remaining green chile and potatoes and cook until potatoes are done, about another 15 minutes.
12 oz is a conservative estimate on the amount of green chile, you can adjust the amount based on your liking
The diced canned green chiles you can buy in the store just wont work in this recipe, at least not for anyone who has had real green chile stew. Luckily for me green chile is now a "thing" where I live and  I look forward to the  annual Hatch Chile fest at Central Market where I go and dutifully buy my 2 bushel cases each harvest. If you are not lucky enough to be able to buy it in the store, there is always this from amazon although the shipping is more than the chile :(. I laughed when I looked at the page, scroll down and look at the "Frequently bought together" what do people frequently buy with green chile? Funny you should ask, more green chile of course!