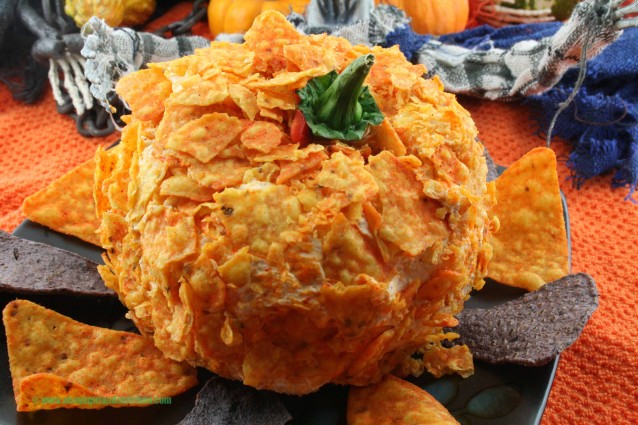 Halloween Cheeseball
Every year on Halloween I try to do an assortment of fun, themed food before we start trick-or-treating.  The kids are usually SO excited just to get out there and get started, its hard to keep them focused on dinner. They have their eyes on the (candy) prize!  I have found that easy, quick, fun Halloween things do a good job of keeping their attention while we wait for the Main event.  This pumpkin shaped  Halloween Cheeseball definitely fits the bill.  This can be made the night before and everyone can snack on it while getting dressed or waiting for dinner.
You can easily adapt this recipe not to look like a pumpkin too.  Just leave off the bell pepper top and you can also change up the coating and serve it any time of year.
Halloween Cheeseball
Ingredients
1 bar cream cheese, softened (8 oz)
1 cup cheddar cheese, shredded
1 tablespoon minced red bell pepper (save the stem!)
1 tablespoon minced onion
1/4 teaspoon ground cayenne
1 teaspoon Worcestershire sauce
1 teaspoon Port wine
1/4 cup real bacon bits or crumbled bacon (optional, but, c'mon its bacon!)
1 cup or so crushed Doritos ( or cheese crackers, shredded cheddar,ect)
Stem to red pepper
Directions
Using a stand mixer or hand mixer, beat cream cheese and cheddar cheese together until blended
Add red bell pepper, onion, Worcestershire, port and cayenne to the mixture and blend until well mixed and all ingredients are incorporated.
You can finish the cheese ball one of two ways.  First,  chill the mixture for several hours or overnight and then shape into a ball and roll in the coating before serving.  Or you can shape into a ball, wrap in plastic wrap and chill in a ball shape.  Remove from plastic and roll in coating before serving.
Top with the red pepper stem you saved and serve!