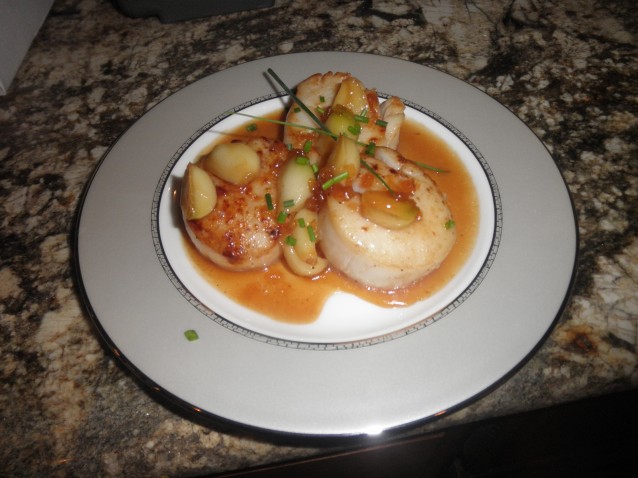 Pan Seared Scallops
This pan seared scallop recipe is very high on my list of favorite things to cook, it is elegant, easy, and the presentation is simple and sublime.  Here are a few pitfalls to watch out for, unless you want to kill vampires, do not skip the boiling of the garlic, if it isn't boiled, it overpowers all of the subtle tastes that this dish presents.  Don't overcook the Scallops, get the pan very hot, cook quickly and then remove them to a plate and tent them.
Pan Seared Scallops
Ingredients
12 Cloves Garlic halved lengthwise
4 TBL Butter
24 Large Scallops
1/4 cup Hard Pear Cider
1/4 cup Maple Syrup
3 TBL chopped Scallops
3 TBL Chopped Chives
Directions
Place garlic in small saucepan of water. Bring to boil, Drain, add fresh water and bring to boil again. Drain and set aside
Melt 2 tablespoons butter in heavy large skillet over high heat. Season scallops with salt and pepper. Add scallops to skillet; saute until cooked through about 3 minutes per side. Using tongs, transfer scallops to platter and tent with foil to keep warm (do not clean skillet).
Add garlic, syrup and  Hard Pear cider to skillet. boil until liquid is reduced to glaze, about 3 to 5 minutes.
Add Champagne, shallots and 2 tablespoons chives to skillet; boil until liquid is reduced to sauce consistency, about 4 minutes.
Add remaining 2 tablespoons butter; whisk until melted. Season with salt and pepper.
Pour sauce over scallops. Sprinkle with remaining 1 tablespoon chives.