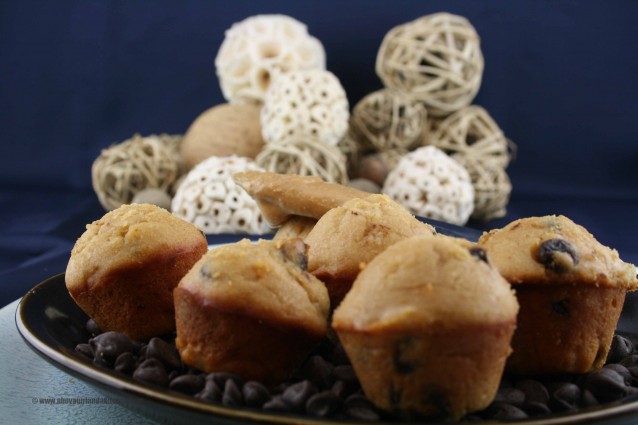 Peanut Butter Chocolate Chip Mini-Muffins
Ah, chocolate and peanut butter… The quintessential combination. Whats not to love?  These are a great breakfast treat and I've even been known to set them out for an after school snack as well. I used coconut oil and natural peanut butter to nudge a tad bit of wholesome into these guys and I think it worked well.  These are extremely popular with my kids.  I'm not sure if it's the flavor or their mini size, but they eat them up! These store easily in the freezer.
Ingredients
Peanut Butter Chocolate Chip Mini-Muffins
2 1/4 Cups All-Purpose Flour
2 Teaspoons Baking Powder
1/2 Teaspoon Salt
2/3 Cup Brown Sugar
6 Tablespoons Coconut oil, melted and cooled (could use butter instead)
1/2 Cup Natural creamy peanut butter (not necessary to use natural, but others will make it sweeter)
2 Eggs
1 Cup Milk
3/4 Cup Mini Semi-Sweet Chocolate Chips
Directions
Preheat oven to 375 °, prepare muffin tin with liners or spray
In a large bowl, whisk together the flour, baking powder, salt and brown sugar.
In a medium  bowl, whisk together the coconut oil (or butter), peanut butter, eggs, and milk until smooth.
Pour liquid mixture into flour mixture and mix until just combined. Fold in chocolate chips.
Spoon mixture into prepared muffin tin, filling each about 2/3 full.  
Bake in a preheated oven for 17-20 minutes or until a toothpick inserted in the center comes out clean.  I made these both regular muffin size and mini muffin sized too.  I put the regular size in first.  Then filled the mini pan and put them in about 5 minutes later and they were done at the same time.
Recipe adapted from http://www.kaitlininthekitchen.com