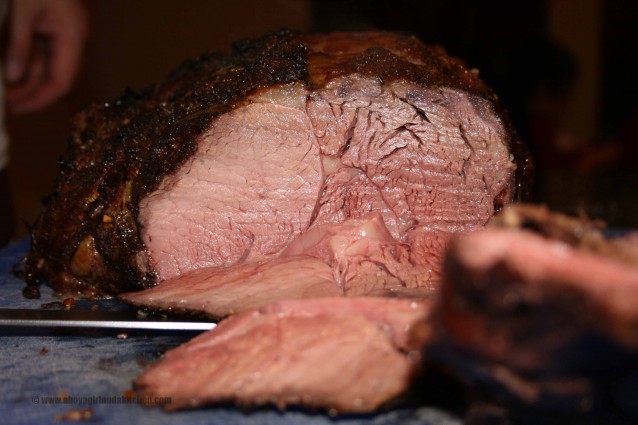 Prime Rib
The Boys Prime Rib Recipe
Not many words can make me salivate, but when I hear Prime rib, my mouth waters. It is actually making it hard to write this!
If you are considering making a prime rib you may be asking yourself a few questions,
Q: "Can I make prime rib at home and have it come out as good as a restaurant?"
A: Better! and here's insight into why. I have worked in restaurants that served prime rib, very little time is spent on them. First guy to show up in the morning slaps a good coat of seasoning on them and into the Alto-Shaam  for the rest of the day, kind of a fire and forget. Cooking a prime rib at home, well now, you will be able to coddle and babysit and nanny-cook that precious hunk of carnivorous dream material  all the way through the  process, give it a herb and salt crust the day before, let it rest uncovered in the fridge overnight to cure that crust, give it heat changes during the roasting, let it rest before slicing, you know, build a relationship with the meat before you eat it.
Q: "Is the cost of a prime rib really worth it because I noticed they have nearly expired ham for a nickel a pound?"
A: Short answer yes, Long answer YYYEEESSS. And the money you save by not getting sick from eating expired ham will more than make up for it. Oh, and if done correctly your In-laws and family will raise you to a god like level after eating it, every Christmas will be compared to the time the prime rib gods smiled on the family and bestowed them with the best meal ever. Flash forward to 2025, "Mom, how is your genetically modified and sentient Tofurkey?"  "Its….edible, hey! you remember that Christmas in 2013 when the Boy made that prime rib? Wasn't that something!"
Q: How much should I buy
A: Bone in usually 2 bones per person or about a pound of roast per person . Boneless I figure 12 oz per person.
so without further ado.
Ingredients
Prime rib- size depending on number preparing for
Salt
Pepper
Thyme
Rosemary
Minced garlic
A good thermometer
Directions
The night before you are going to cook  the prime rib, remove it from its packaging, pat it dry with paper towels, and season it very liberally with the salt, pepper, thyme,rosemary, and garlic. it should have a nice 1/8 inch thick crust of herbs and salt on it, don't forget to get the bottom of the roast too! Put on a rack in a non- reactive pan uncovered in the refrigerator overnight, this will help the crust form
 Pull  the prime rib roast from the refrigerator about 30 minutes prior to roasting so it comes up to room temp
Preheat oven to 225°
Place in oven on middle rack to roast
Removing the prime rib from the oven when the  temperature in the  thickest part of the  meat is 120° will yield a nice medium rare. if you pull it about 135° it will give you a nice medium. (Q:But what if I want mine well done? A: You should have bought the expired ham.)
After the prime rib is removed from the oven, it needs a little time alone, Cover it tightly with foil, or if you have a lid for your roasting pan, throw that on there. Leave it in time out for at least 30 minutes and up to an hour. Don't Skip the resting stage
While the prime rib is thinking about what its done, turn the oven up to 500°
After the prime rib has had time to rest and about 15 minutes before you want to serve it, uncover the prime rib and put it back into the 500° oven for about 5-10 minutes until it has crisped up and has a nice brown color to it.
Carve and serve with herbed Au jus  and Horseradish sauce
A few words about temps, thermometers and carry over cooking.
Temperature, is the best indication of doneness, not time. When taking your temperature, make sure you have the thermometer all the way into the meat, most thermometers are called bimetal thermometers and do not temp at the point but at the small dimple a little up from the point, that's the part that should be in the thickest part of the meat, make sure the thermometer isn't going all the way through the meat and touching the pan, or touching a bone.
The prime rib will continue to "carry over" cook as it rests, from the 120° up to a nice medium rare 130°-135°. Generally the thicker and larger a cut of meat the more heat from the hot outside will find its way into the interior of the meat, this means you must remove the meat from the oven at a lower temperature than the desired finish temperature and allow it to carry over cook.
I always serve this delicious meat with with my special Horseradish Sauce and  herbed au jus.