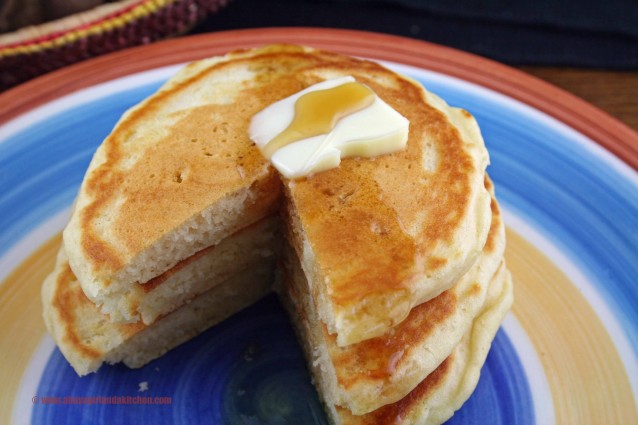 Restaurant-Style-Pancakes
So, about every other Sunday I decide to make a big breakfast and destroy the kitchen for the better part of the day.  This big breakfast usually consists of both pancakes and waffles, 'cause its easy to flip one waffle every couple minutes while the pancakes are going and vice versa.  And too, I love having extra breakfast stuff in the freezer for those early school days when no one wants cereal.
I found this recipe a few months ago and it has become a new favorite in our house.  I always love big, fluffy pancakes that you get  at breakfast restaurants.  And that is what these are.  They are so incredibly fluffy.  They are just begging to drink up all the syrup they can.  These really taste just like you are out to eat for breakfast, but without the long wait!
The amounts listed below make a modest amount of pancakes.  Definitely enough for the morning with some leftovers, maybe…  But, I actually quadrupled (mainly because I'm crazy)  this recipe to ensure that I would have PLENTY of leftovers.  And I did indeed have tons of leftovers. And, also several easy school mornings.
Ingredients
Restaurant Style Pancakes
1½ cups all-purpose flour
3½ teaspoons baking powder
1 teaspoon salt
1 Tablespoon sugar
1¼ cups milk
1 egg
3 Tablespoons butter, melted and cooled slightly
Directions
In a large bowl, sift together the flour, baking powder, salt and sugar.
Mix the milk, egg and melted butter with a fork or whisk until smooth, then add to dry ingredients.
Heat a griddle or large pan over medium high heat (I set my griddle in the 350- 375 degrees range). Drop about  ¼ cup of batter for each pancake. Wait until bubbles form to flip.
 Recipe adapted from 
supergluemom.com