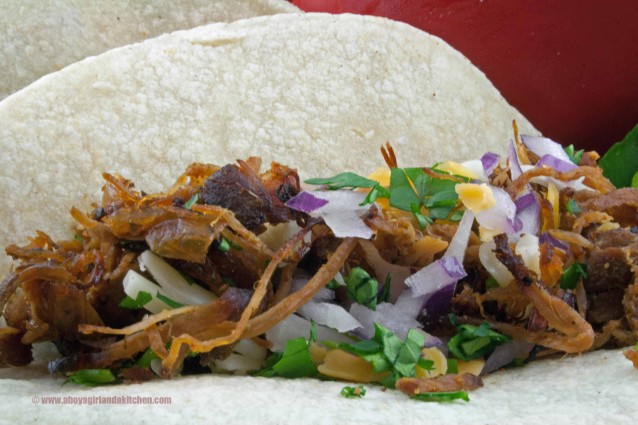 Spicy Slow Cooker Carnitas
I LOVE taco night!  So many reason to love it…. First, my kids will always eat tacos.  Always.  I swear if I put cereal in a taco shell and told them they were breakfast tacos, they'd buy it!  Another reason Taco night is such a hit around here is that it can be different each time.  Different taco filling, different toppings, different sides… no two taco nights are the same.
This Spicy Slow Cooker Carnitas recipe will be a welcome addition to your taco night rotation.  It has a lot going for it;  it tastes great and its easy. Winner, winner taco dinner!
Ingredients
Spicy Slow Cooker Carnitas
1 Tbsp. vegetable oil
1 (3-5 lb.) boneless pork roast, excess fat trimmed, cut into 3 or 4 inch hunks
1 bottle of  beer
4 cloves garlic, minced
1 large onion, diced
1.5 Tbsp. chipotle powder
2 tsp. cumin
1 tsp. chili powder
1 tsp. oregano
1 1/2 tsp. salt
1 tsp. black pepper
5 sprigs cilantro
Directions
Heat oil in a large skillet over high heat. Salt and pepper trimmed pork chunks. Add the pork and sear on all sides until browned. Transfer pork to the slow cooker.  Add minced garlic to the pan the pork was seared in and stir until fragrant, about 30 seconds.  Add 2 ounces of beer and deglaze pan.  Add mixture to the slow cooker.
Add the dry ingredients and cilantro and 6 oz beer to the slow cooker, stir to combine. Cook on low for 6-8 hours until the pork is tender.
After your pork has cooked, prepare a baking sheet with foil and preheat your broiler. Depending on the amount of pork used, you may need two baking sheets or do 2 batches.  With two forks,  shred the meat. Transfer the meat to the prepared baking sheet, making sure to spread it out evenly.
Place one sheet under the broiler for about 5 minutes, or until the edges of the pork begin crisping up. Remove the sheet and use tongs to carefully turn the pork. Broil for an extra 5 minutes to get the meat more crispy.  Continue to broil in 3-5 minute increments until the desired level of crispness is reached.
We serve the carnitas in warmed soft corn tortillas with various toppings; cheese, cilantro, diced red onion.. use whatever toppings you enjoy!
Recipe adapted from http://www.gimmesomeoven.com