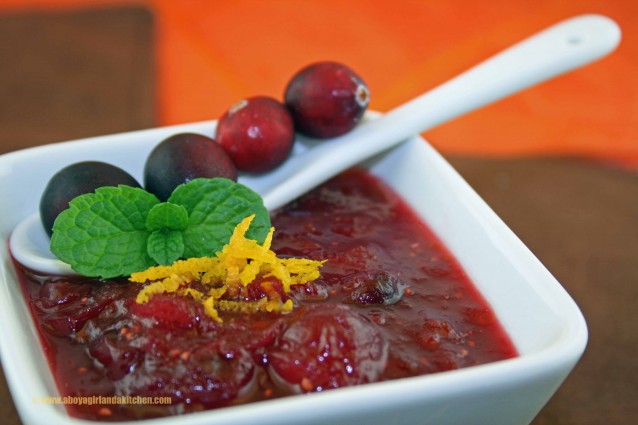 ginger cranberry sauce
There are so many options when it comes to Thanksgiving staples.   For instance, cranberries.  You know there will most likely be cranberries on the table at Thanksgiving.  What kind do you reach for, jellied or whole berry?  Such a dilemma, right?   I think to most people cranberries are an afterthought, you know you're supposed to have them but don't want to deal with making them.
If you have ever considered making your own cranberry sauce but have been intimidated by it, then give this Warm Apricot Cranberry Sauce recipe a try.  It is so easy and tastes wonderful!  This is a nice combination between jellied and whole cranberries and you can make it lean more one way or the other depending upon your preferences (cooking longer will make it smoother, closer to 20 minutes will keep more whole berries intact).  This cranberry sauce can be made a day or two in advance and stores well in the freezer. You can serve it warm or cold.
What I really like about this (besides how easy it is) is the fresh, vibrant taste of this apricot cranberry sauce.  The orange juice and ginger balance the tartness.  There is a nice level of sweet, but it's not too overpowering. This has been a proud headliner on our Thanksgiving table for several years.
Ingredients
Warm Apricot-Cranberry Sauce
1 tablespoon unsalted butter
2 tablespoons finely grated ginger
12 ounces fresh cranberries
2/3 cup sugar
1 cup fresh orange juice
1/2 cup apricot preserves
Directions
In a saucepan, over medium heat, melt the butter. Add the ginger and cook, stirring, for 2 minutes. Stir in the cranberries, sugar, orange juice, and preserves.
Cook, stirring occasionally, until the cranberries burst and the sauce thickens, about 20 minutes. Transfer to a bowl and serve warm.
Adapted from-  Real Simple November 2007