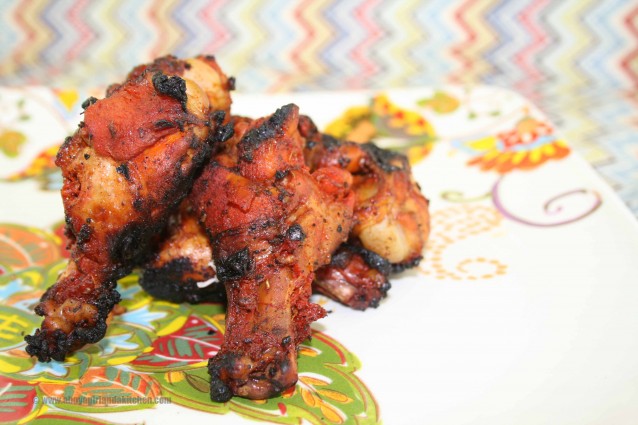 Achiote Chicken Wings
Achiote chicken wings
For the past several years our family has vacationed in Cancun, while there we always try to take a day trip to Isla Mujeres. There are several restaurants on the island that specialize in a dish called Tikin-Xic, basically it is a whole butterflyed fish slathered in ground annato seed and lime juice, sandwiched between two grill racks with some sliced tomato and onion and then grilled over an open wood fire. I don't know if it is having super fresh fish, eating under a palapa on the beach next to the ocean, the actual preparation of the fish or maybe it is a combination of the three, but it is definitely one of the most sublime dishes I have eaten.
Well fast forward a few months and I decide to try the preparation on some chicken wings. They turned out great, a beautiful red color from the achiote paste, a little bit of smokey heat from the chipotle adobo and the bright and tangy citrus notes of the lime and tangerine seem to add a level of juiciness.
I suggest marinating these for at least 2 hours, and overnight if possible. I double skewer them so they don't fall through the grill or spin on a single skewer. I cooked these over a nice bed of charcoal that had burned down a bit, so they wouldn't burn.
Ingredients
1 1/2 lb chicken wings
4 oz achiote paste
3 tsp ground cumin
1/4 cup white vinegar
1/2 cup lime juice
1/4 cup tangerine or blood orange juice
4 Tbl  adobo paste from a can of chipotle peppers in adobo sauce
Directions
Combine all ingredients in a non metallic bowl or a ziplock bag.
Add the chicken wings and marinate at least 2 hours and overnight if possible.
I double skewered and cooked over charcoal trying to mimic the taste and preparation of the isla mujeres Tikin-Xic.
If you don't want to grill them you could roast them in the oven, I would suggest a hot 400 degree oven to try and crisp the skin.
They are done when the internal temperature is 165.