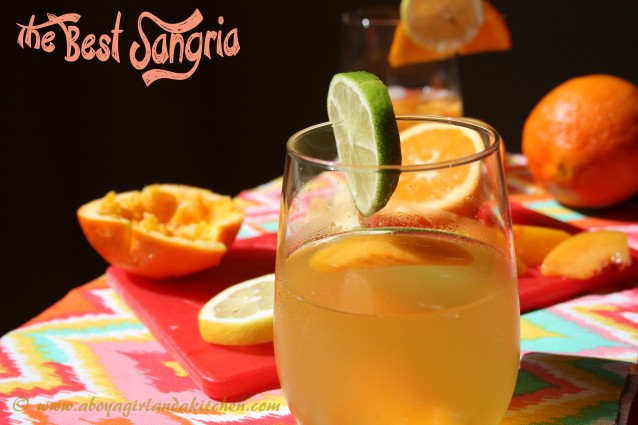 This is it.  This is the sangria recipe you've been looking for.  It tastes amazing and its easy to make, win-win!  This Sangria recipe is one of our top requested recipes of all the things we make.  It is universally liked by all.  Even that group of beer drinking guys at the summer barbecue.  They see it, they have heard about it, they know they won't like it.  But guess what?  They do, they always do!
We came up with this delightful sangria recipe about 5 years ago.  I fondly remember that time as the summer of sangria.  We first brought it to a cinco de mayo party.  I swear this sangria got us put on the invite list to every other gathering that summer.  Every. Single. One.  We and our sangria were in high demand.  We were known for it. It's not a bad thing to be known for.
This recipe can easily be  doubled for larger groups (or big drinkers 😉 ).  Best part of this sangria is at the end of the night, you have a bunch of yummy fruit that has soaked up the liquor.  We generally double this recipe most of the time and it fits perfectly in our 2 Gallon container.
This is truly The Best Sangria.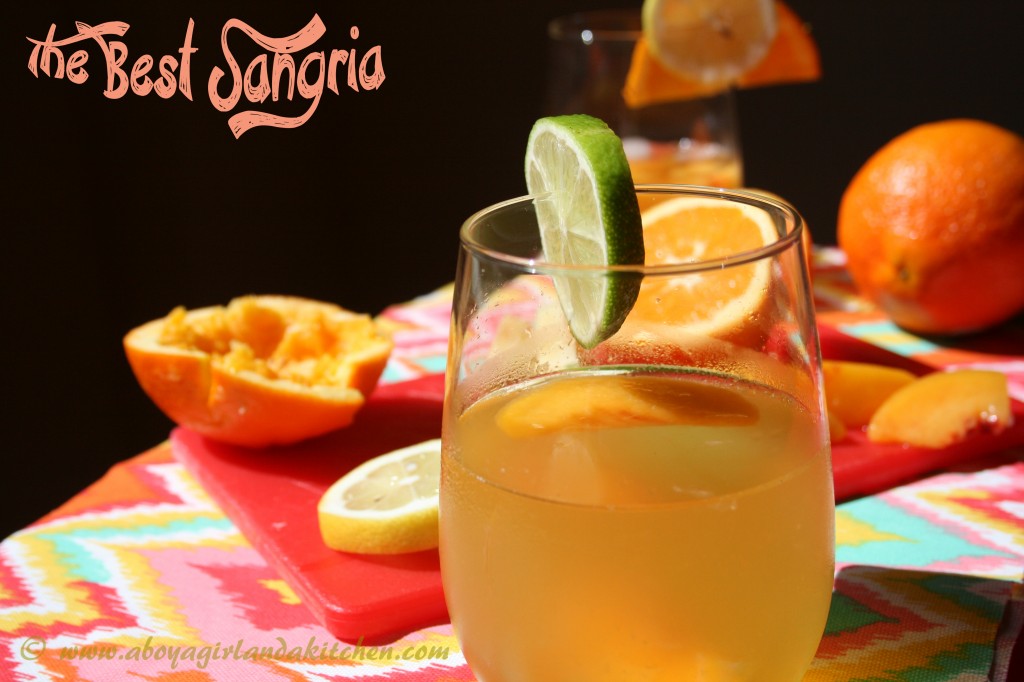 Ingredients
The Best Sangria
2 bottles white wine (we usually use 2 different kinds and and prefer pinot grigio, sauvignon blanc and/or chardonnay)
1 Quart (4 cups) white grape peach juice, separated
16 ounces frozen peaches
1 Cup Sugar
1 Cup Triple Sec
1/2 Cup Brandy
1 apple, sliced and cored
3 large oranges, squeezed
1 lemon, sliced and squeezed
1 lime, sliced and squeezed
Additional fruit slices for garnish, if desired
Directions
Put 1 cup of white grape peach juice and the sugar in a medium saucepan and heat over low heat, stirring until sugar is dissolved. Once dissolved, remove from heat and allow to cool slightly. (You can skip the heating step, however its the easiest way to dissolve the sugar)
Meanwhile in a large container, mix wine, remaining 3 cups of juice, Brandy, Triple Sec, and peaches. Add sugar and juice mixture.
Add in the juice from the oranges. Squeeze lemon and limes into mixture and drop into the container.
Chill and enjoy!