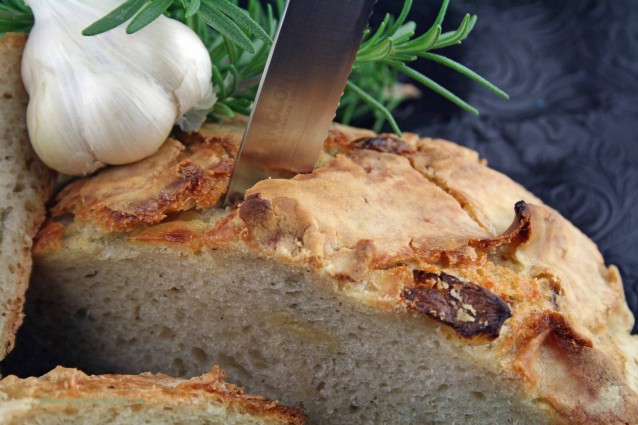 Easy Rustic Style Bread
Are you looking for an easy, crowd pleasing bread you can whip up in seconds?? Ok, Maybe minutes… But, honestly, this is INSANELY easy and it will elicit ooh and ahhs from friends and strangers alike.  It definitely looks like you spent a lot more time on it than you actually did.  The recipe below makes a nice, basic loaf.  I like to add extra flavors from time to time.  The one in the picture is a rosemary, roasted garlic and cracked black pepper with Parmesan. We've tried lots of combinations of different flavors and have yet to have a bad one.  If you have a few spare minutes tonight, whip this up and have an awesome loaf of Easy Rustic Style Bread tomorrow.
Easy Rustic Style Bread
Ingredients
3 cups unbleached all purpose flour
1 3/4 teaspoons salt
1/2 teaspoon Instant or Rapid-rise yeast (in the jar)
1 1/2 cups water
Directions
Add flour, salt and yeast to a large mixing bowl.  Stir until mixed will with a fork.
Add water stir.  It will get sticky quick,  but stir until all the dry ingredients are incorporated.
Cover bowl with plastic wrap and set aside for 12 – 18 hours.  Overnight works great or first thing in the morning to bake for dinner.
In the morning or after the 12-18 hours of rise time, heat oven to 450 degrees.  When the oven has reached 450 degrees place a cast iron pot with a lid in the oven and heat the pot for 30 minutes.
While oven is heating up, pour dough onto a heavily floured surface and shape into a ball.  Cover with plastic wrap and let it rest while the pot is heating.  Remove hot pot from the oven and carefully drop in the dough.  Put the lid back on and return to oven for 30 minutes. (Remember to use oven mitts!)
After 30 minutes remove the lid and bake an additional 15 minutes to get a nice golden brown top.  Remove bread from oven and place on a cooling rack to cool.