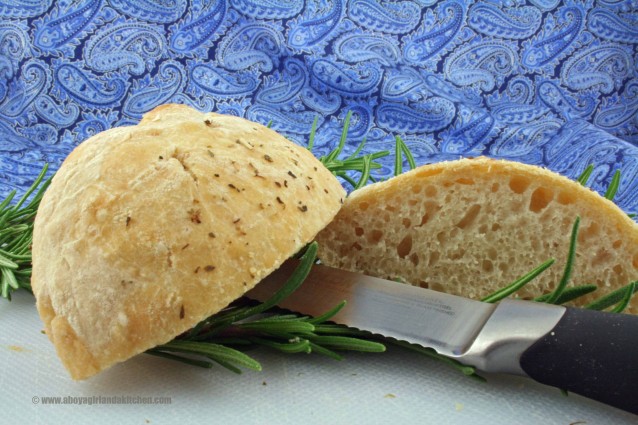 Focaccia Rolls
I like making bread from scratch.  Especially easy, nice looking bread.  And bonus if it tastes good too!  I found this recipe for Foaccia Rolls and they looked great and used the overnight proof method, which it fairly easy to work with.  This is a simple recipe that will turn out a great roll.  My son loved these!  He was responsible for eating most of them.  They worked as a side bread at dinner and also made an appearance in his lunch box as an Italian sandwich (salami, pepperoni, mozzarella and a little chipotle mayo)
Ingredients
Foaccia Rolls
4 cups all-purpose flour
½ Tbsp salt
¼ tsp instant yeast
2 cups warm water
2 Tbsp olive oil
2 Tbsp Italian seasoning
Directions
About 12-18 hours before you plan on baking these,  whisk together the flour, salt, and yeast in a large bowl.  Add the water, starting with 1.5 cups, and gradually add small amounts at a time until the flour shapes up into a nice doughy ball. At this point all the flour should be incorporated into the dough ball. The total amount of water you'll need will vary, but should be between 1.5 to 2 cups.
Loosely cover the bowl with plastic wrap and let it sit at room temperature for 14-18 hours to ferment. (Overnight works great or first thing in the morning if you are planning on having these at dinner time)
Once the dough has had 14-18 hours to proof, flour a work surface to prepare the rolls.  Pre heat the oven to 425 degrees and prepare baking sheets.  I baked 6 at a time.  You can use two baking sheets or one and wait for the first batch to come out.  This dough is very sticky.  Cut or pull dough into 12 (mostly) equal pieces, shaping into a ball.
Place the rolls on the prepared baking sheets and brush the top of each lightly with olive oil. Sprinkle the Italian seasoning over top.Place the rolls near the oven and allow to rise until doubled in size usually 30 minutes – 60 minutes .
Bake until the surface is a light golden brown (about 25-30 minutes).
 Recipe adapted from http://www.budgetbytes.com/2012/04/focaccia-rolls/