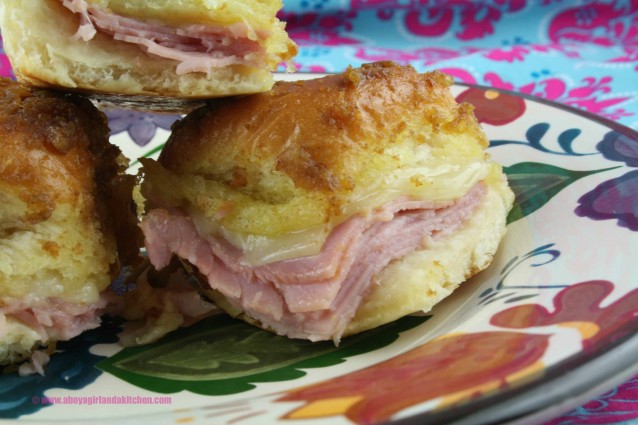 Ham and swiss sliders
Are you looking for a last minute addition to your Super Bowl food line up?  How about this easy, tasty sandwich?  These ham and Swiss sliders are sure to be a hit!  It's a nice, melty sandwich that comes together in a snap.  A little savory sauce on top, its good stuff.  If that description doesn't  entice you, what if I told you my son gives these little sliders 100 stars, out of 10? True story.
Ingredients
Ham and Swiss Sliders
1 package Kings Hawaiian sweet rolls (12 rolls)
1/5 lb. deli ham, sliced
6-oz. sliced Swiss cheese
1/4 c. butter, melted
1 T. Dijon mustard
1 T. dried, minced onion
1 T Worcestershire sauce
Directions
Pre heat oven to 350.
In a saucepan, melt butter over low heat.  Once butter is mostly melted, add dried onions, mustard and Worcestershire.  Stir to combine and remove from heat.
Cut rolls in half lengthwise; set tops aside. Place the roll  bottoms in a lightly greased 9 x 13 baking dish.  Layer ham and cheese on top and put the rolls tops on.
Pour the warm sauce over top. Bake, covered with aluminum foil, at 350 20-25 minutes, until sandwich is warm throughout and cheese is melted. Follow the marks to cut into squares. Serve warm.