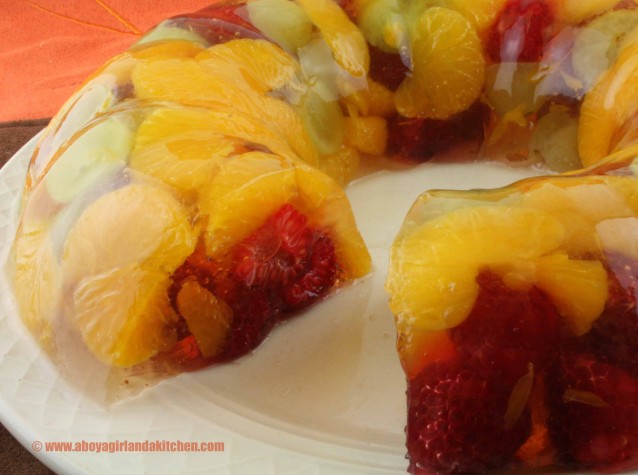 Sparkling Sangria salad
Growing up in the Mid-West, jello is expected at family functions.  It just is, I can't really explain.  And by jello, I mean jello salad.  We're talking jello with stuff in it, lots of stuff in it. So, the first time Chance and I made Thanksgiving dinner together, I made my mom's Thanksgiving  jello.  Now, its one of those things that I grew up eating so I knew what to expect.  I really like my mom's jello, I used to ask for it when I was sick. I don't think Chance was ready for it.
Along came this gem and we haven't looked back.  This will year will mark my 10th year making this delightful Sparkling Sangria salad.  I generally make this the day before Thanksgiving as it does take some time to set.  But, the bonus to that is you get to open the wine when you make it!  This is  fruity and light and really just lovely.  It can be a gorgeous addition to your Thanksgiving table, that is, if you are ready to accept jello as part of your Thanksgiving tradition.
Ingredients
Sparkling White Sangria Salad
2 envelopes unflavored gelatin
1 1/2 cups Riesling, divided
1 1/2 cups white grape juice
1/4 cup sugar
1 1/2 cups mandarin orange sections
1 cup seedless green grapes, halved
3/4 cup fresh raspberries
Cooking spray
Directions
Sprinkle gelatin over 1/2 cup wine, and let stand 5 minutes.
Combine the remaining 1 cup wine, grape juice, and sugar in a medium saucepan; bring to a boil over medium-high heat. Remove from heat; add gelatin mixture, stirring until the gelatin dissolves. Place pan in a large ice-filled bowl; let stand 20 minutes or until thick but not set, stirring occasionally. Whisk the gelatin mixture to form small bubbles; fold in orange sections, grapes, and raspberries. Spoon gelatin mixture into a 5-cup decorative mold coated with cooking spray. Cover and chill at least 4 hours.
Place a plate upside down on top of mold; invert mold onto plate.
Recipe Source – Cooking Light myrecipes.com